a heel corner has been turned...

finally...a reasonably current update on my sockapal2za progress!

since taking a pic of a sock on my foot is damn near impossible rather difficult to do gracefully, i borrowed someone else's freshly shaven and showered foot to use as a sock model (thanks ginger!)...fear not, oh sock pal (if you ever find your way here), i promise to launder your socks before sending ;-)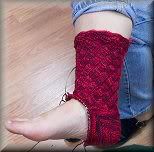 Details:

Pattern: Mermaid socks from Lucy Neatby, "Magic Loop" technique on size 1 and 2 Addi Turbos

Yarn: Blue Moon Fiber Arts "Socks That Rock" 100% Superwash Merino from the guys. their first shipment of this wonderful-to-work-with-and-gorgeously-colored-hand-dyed sock yarn nearly sold out the first week it was in the shop (SERIOUS depletion of selection occured the first day lol)...and no i am NOT confessing as to how many skeins yours truly is hording for future sockly projects managed to get her hot little hands on ;-) i believe there's another shipment due yet this summer...mwahahaha

this pattern is very easily memorized, and is going a lot faster than i'd expected (i am, at best, a pokey sock knitter, and have "second sock syndrome" issues), which was a pleasant surprise. i have a feeling it might be a little more confusing if done on dpns, with the way the 'ribs' spiral, but it's easy as pie on the magic loop, especially heel placement. this is my first 'real' short-row heel (have done them in practice but never in a sock before) and i wasn't too sure about how a garter stitch heel would look, but it went easily and i think it looks ok. lucy suggests using a variegated yarn with strong contrasts for this pattern, and i do like the way hers turned out--but i'm really happy i decided to stay with this colorway. it's more subtle, but there's a 'pattern-within-a-pattern' that's developed that runs on the opposite diagonal to the 'ribs' that i really like :-) confoozled by my attempt at explanation? click the pic for a larger view...i think you'll see what i mean.

i've gotten a bit farther down the foot than this picture shows, but don't have a more recent shot, so this one will have to do til i can find another footmodel. i've been told to consider this my 'second' sock of the pair so i don't get bogged down with the dreaded SSS, but i think at this rate i should be finished by the mailing date :-)

i'm not far enough along on my summer of lace projects for decent pics yet (so many projects so little time? lol), but my threadybear sweater is moving right along, so there should be pics of that, and a shop model project that's nearing completion to share as well...so those will probably be fodder for my next post.