houston, the eagle mermaid has landed!
i gotta admit...i'm in shock...i've got the first mermaid sock finished (all but the tails)! details (materials, pattern, etc.) are listed here.

fair warning though...this post is a bit picture intensive, though i've thumbnailed** them.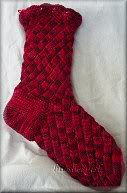 it's also likely that i'll dislocate my shoulder from all the back-patting i'm doing here...but damn it, i'm proud of this! (and if you know me at all, which isn't likely at this point, you'd realize how rare it is for me to be happy with something i've made)

here it is, slightly dark (i'm finding how difficult it is to accurately photograph reds grr) on my cheapo makeshift cardboard blocker rather than on a model's foot. it doesn't show the sock off quite as nicely, but it's better than nothing. i'm extremely tickled with this overall...i know i'm overdoing but it WORKED! the toe is quite cleverly designed, the decreases hiding in the pattern (which is maintained somehow) down to the last 2 or 3 rows...that lucy is such a clever knitter! ;-)



a close up of the toe decreases (it makes such a cool little star spiral pattern!): i flattened it a bit for the picture...it does come to a tiny point at the moment but i suspect that'll work out after finishing, washing and a little blocking.


a close-up of the pattern--i can't get over how neatly the color repeats make a secondary pattern in this! wish i could take credit it for it, but i can't of course lol...it's going to be damn near impossible difficult to make these identical, so i suspect my pal will have to be happy with similar-looking fraternals ;-)



beth emailed me last week asking if the yarn-overs that are part of the pattern show as holes...they don't on casual observation, but i suspected they might if
stretched out...so here's a (somewhat blurry) shot of the pattern stretched out--and that took a lot of stretch to show the holes! ;-) i think the nature of the pattern itself tends to draw in the yarn-overs.

there's only one thing left for me to do now...finish the other sock! i'm kind of dreading it though...i have the horrible sneaky suspicion that i'm going to be just a wee bit short of yarn...keep your fingers crossed for me pleeeeeeeease!

and thanks for putting up with my self-praise...promise i won't make a habit of it ;-)


**i would imagine it's obvious i was playing with thumbnails and layout in this post...if you find what i've done annoying/frustrating (meaning thumbnails that open in other windows, text wrapping around pictures, etc), please let me know--i don't want to make reading this too difficult!


NOTE: (which was here earlier but has now somehow disappeared grr) if you're having any problems viewing the pictures, please let me know (and what sort of error message you get) so i can try to figure out what's wrong--thanks :-)