on my toes...
apparently the colder weather has me thinking sockage...and this time for ME! (i have more sock yarn
than a centipede could use
than i'll use in a lifetime, but i've never actually managed to make myself a pair...about time i did!)
cliquez pour rendre des images plus grandes svp ;-)
these are destined to be a pair of footies (if i don't run out of yarn eep!)...i'm test-knitting one of
susie's
new yarns/colorways, "
Blustery Day
" (scroll down to see the skein or try her
etsy shop
for another pic)
i'm liking this yarn very much (both the yarn itself and the way the colors are playing out) but it does take a while to make much visible progress (sorry susie!)...2.0 mm (size 0 Addis) needles and 10sts/inch! at least i'm doing both at the same time...no SSS for me thank you! ;-)
the little red spots are my ladybug stitch markers, made 'specially for me :-) by Suann at
the shop
(she's also made special sets for ovarian and breast cancer awareness, the proceeds of which are being donated to cancer research--pretty sure both types are still available--contact
rob
if you're interested!)
the second pair is being made from the yarn shown in my last post...it's Interlacements' "Toasty Toes" in what i believe is the
African Violets
colorway...just what i needed to counteract the snowfall that numbed my tootsies! yes the snow melted the next day, but i was already
to be
committed ;-)
the ever-so-pretty stitch marker is one i picked up yesterday at ThreadBear's vendor show...it was made by Rebecca at
Waters Edge Jewelry
. i was happy learning she was going to be at the vendor show, as i really like her work--i got some sheepy markers from her last year and oddly enough my flock has increased...good thing they don't eat much! ;-)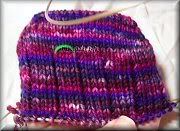 i'm kind of playing the design/pattern by ear--the instep is 3x1 rib, to be expanded to the entire sock once i'm past the heel (which i think will be short-rowed). this yarn is also very nice to work with, soft and warm...i should be able to wear these with my birks (assuming i finish them before august 2010 lol). being on 3.75mm (size 5 Addis) and 6sts/inch, this is going just a wee bit faster than the other pair...i'll set up the second sock shortly so i can do both of these at once too...just wanted to see how the pattern looked before i started the other.
both sets of socks are being done toe-up (obviously? lol)--and i'm
really
loving
this
cast-on! it's simple, it works VERY well, is completely seamless, and by using make-one's versus short-rowing, eliminates the need for wrapping stitches and fretting about holes :-) i have a suspicion this may well end up being my favorite way to begin toe-up socks!
back to knitting...my feets are cold ;-)