final(?) Le Tour update (part 2)
warning: this is going to be another photo-heavy, spinning-themed post...if'n this isn't your cup of tea, you may wish to move along ;-)

warning the second: i apparently have run out of space on my webpage (EEK) for photo storage so i'm using my photobucket account again...please let me know if you have any problems seeing or accessing the pictures...thanks :-) per usual, click to get full sized photos
i didn't take another photo of what i'd spun on the wheel during
Le Tour de Fleece
, so you'll have to make do with this recycled one from january:
yes, this had been started pre-tour, but i'm spinning for a project and since i've got the tension set perfectly for this yarn i reeeally didn't want to take the bobbin off...you'll have to trust me that it's now nearly full and i have to *gulp* wind it off...i'm terrified it'll fall apart!
the fiber is charcoal
Handspinner's Dream
from
Alpaca With A Twist
...incredibly soft, silky baby alpaca...lovvvvvve this stuff!
i decided that i wanted to practice (or at least try to) making a heavier, softer, (and less over twisted grr) yarn, so my next spindling project involved the first multi-color roving i ever purchased from
the guys
...a "
Color Me...
", a rather retina-burning ;-) fuchsia, blue and purple colorway called "Berry Happy". it took a lot of conscious effort, but i think i succeeded :-)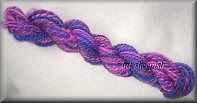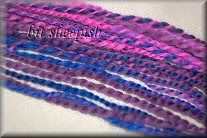 it's quite bulky, but very soft ("berry" smooooshy lol) and reasonably balanced...there's another skein of this (about 45 yards total), and more roving left, so i suspect i'll spin up enough for a pair of mittens...should keep some little one happy and warm :-)
[frustration note: i'm getting more and more hooked on spindling but how the heck do i get more yardage? yessssss i know, spin longer/more fiber...but i seem to run out of room on my spindle...what do you more experienced spinner types do?]
i hadn't spun from a carded batt before, so one of the lovely blends i got from
susie
seemed like a good choice. it's a combination of 75% Ile de France (a sheep i hadn't heard of before), in shades of cherry and white; 24% of a black fiber which she thought was merino but i suspect is more likely llama or alpaca (it just doesn't act like sheepy fiber)
[edit: i stand corrected: susie sent me a sample of the unblended black fiber--it's not alpaca or llama, but it's the oddest feeling merino...not nearly as fine or crimpy as what i've used previously...wondering if the dyeing process (not hers) has something to do with it...in any case sorry i doubted you suze ;-)]
; and 1% Angelina, a glittery reflective fiber (something else i hadn't used before)...
my first reaction when i started spinning this was ACK...i have a tendency to at least try to spin a smooth even singles...this wanted to be a bit slubby, a bit thick/thin...and definitely NOT laceweight...so i figured why fight with it, and let it spin as it wanted to...and i was very pleasantly surprised :-) i plied it back on itself and it evened out nicely, and it's fairly balanced as well (a nice surprise, given my tendency to overtwist)
these photos are a bit over-exposed it seems to me...the color is richer in 'real life'...it reminds me a lot of black cherry pop (or soda lol), with those little bits of glitz peeking through from the Angelina...i'm not sure if they show in the pictures but they're definitely there :-) there's still a lot of the batt left, but i want to see how it reacts on the wheel, so i'm saving what's left to use once the alpaca is done...thanks oodles susie, i really enjoyed this one :-)
[sheeeesh i'm being long-winded...can't blame you if you gave up on me long ago lol...]
last 'new technique' tried was a cabled yarn...i had something in mind that required a smallish amount of cabled yarn so why not give it a whirl? (*groan* sorry about the pun)
i had a quantity of this lovely stuff
from
Little Barn Fibers
(same place the merino laceweight above came from),and thought it might work out nicely (are you noticing a color trend here? lol)
however it seems i don't really understand how to use roving striped in this fashion :-\ the singles turned out like so: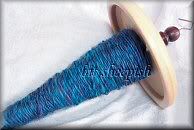 losing much of the variation in color...and it didn't get any better as i went along :-( ...oh the cabling bit turned out ok (but boy does it take a lot of fiber to make a short cabled yarn), but...it's not terribly interesting, colorwise...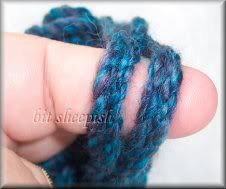 i like the feel of it, and i'm sure i'll try it again (though probably on the wheel lol...the spindle fills up soooooo fast with yarn this heavy)...it'll work for the project i had in mind...i just wish the color play had worked out better.
aside from one final 'kick' on the 23rd to finish filling up the alpaca bobbin, that was the end of my Tour de Fleece "ride"...i enjoyed it thoroughly, i learned some things...and i'm still spinning a little every day...so it's all good :-)
if you managed to stick it out to the end of this mess, thank you...i'll try to keep my entries a bit shorter from now on ;-)
Labels: Spinning, Tour de Fleece