siren song

finally getting a break from the antics of this misbegotten machine my computer...it's behaving at the moment so i can post...we'll see how long it lasts grr

here is the final picture of the socks formerly known as "mermaid" but are now known (at least to me) as 'siren' socks!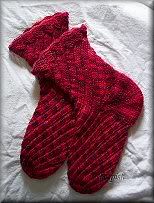 i feel this is a much more appropriate epithet title for them, as the first one lulled me into a false sense of security singing of its beauty, then promptly crashed me on the rocks of the "nyah-nyah-you-don't-have-enough-yarn-to-finish-us" shoals ;-)
they were mailed out to my sock pal, Mandy [edit: i had her name blanked out til i was sure she got her socks...she has--HURRAY!], on the 15th (more shock and amazement...i still can't quite believe i had them done in time!), though it's distinctly possible that they didn't go out til friday, considering that they were being mailed from a village post office that collects earlier than i remembered *sigh*

she ought to have them by monday i should think...i just hope she likes them *biting nails* [edit: she did (saturday) and she does! *whew*]

Project Details:

Pattern: "Mermaid" socks from Lucy Neatby's "Cool Socks, Warm Feet". i found this very easy to memorize, and i really like how the pattern works up...definitely thinking about trying to make myself a pair of these at some point. i wasn't too sure about the garter st short-row heel, but once i'd done the first one i really liked how it looked (was easy to do too!), and it sort of 'echoes' the top border. it also seems very 'cushiony' which should make for a good heel. spiral toe design meant no kitchnering! (i can do it, i'm just not fond of it lol)

Materials: 1 skein (BARELY enough) of Blue Moon Fiber Arts "Socks That Rock" 100% Superwash Merino, colorway "Ruby Slippers" (if you peek at the name of her blog, you'll understand why i chose this color *grin*). i REALLY like this yarn (was easy on the hands to knit with, it washes up so soft, and there was no bleeding of the dye despite the color). this was a 4.25 oz skein, approx. 325 yards...see comments below re 'enough yarn for a pair of socks'. worked on US size 1 and 2 Addi Turbos (2.5 and 3mm respectively), using the 'magic loop' technique (this could well make me a more avid sock knitter!)

Notes: this pattern seems to take a bit more yarn than the average pair of socks--i missed the comment in lucy's directions about needing more yarn for larger/longer feet or longer than ankle length socks *sigh*, so it's not fair for me to blame it on the yarn/skein for not having enough--i suspect (will find out) that in a simpler design there'd be plenty of STR to complete a pair. the upper section of the original sock was longer than i'd realized (apparently i can't measure?)...somewhere between 7 and 8 inches. that combined with a slightly longer foot led to the above mentioned "crash". i would definitely encourage anyone to try these (they're not nearly as complicated as they seem, and lucy's directions are clear...well if you read them all lol), just be certain you have a goodly amount of yarn available :-) they were a fun knit, and i'm glad i decided to join, if only to give me the opportunity to try them out.

a bit sad i suppose to see these leave...but there's a new project in the wings: making some special socks for emily, my pal in the sock exchange thingy!